Professional Lawn Care & Pest Control Services for Properties in Doylestown, PA
We offer fertilization, weed control, perimeter pest control, mosquito control, and more!
Named after William Doyle, an 18th-century tavern owner, Doylestown, PA, is now a borough in Bucks County and home to around 8,250 residents. Doylestown provides quaint, suburban living, but it's also an ideal destination for history buffs; here, you'll find many places to explore its rich history, including the Mercer Museum, Fonthill Castle, and Michener Art Museum.
At Delaware Valley Turf, we offer professional lawn care and pest control services to properties in Doylestown, from fertilization and weed control to perimeter pest control, mosquito control, and much more! Not only can we help you achieve your dream lawn, but we'll also kick pests to the curb.
---
Say Hello to a Healthy, Verdant Lawn With Our Lawn Care Services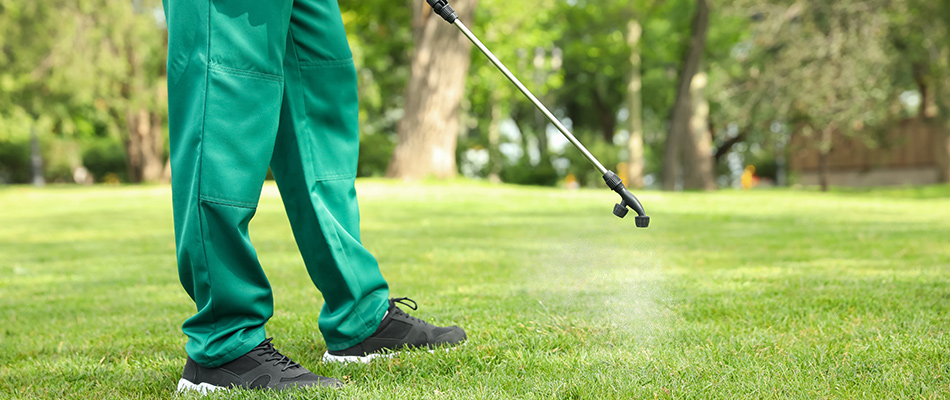 Say goodbye to a poorly-cared-for lawn and say hello to a healthy, verdant one with our lawn care services! We offer the following lawn care services to property owners in Doylestown, PA:
Fertilization: We'll fertilize your turf several times throughout the year to provide it with all the nutrients it needs to thrive.
Weed control: We'll utilize pre- and post-emergent weed control treatments to prevent any more weeds from surfacing and eliminate any that have already sprouted. Some common weeds we target include dandelions, clover, nutsedge, wild violet, and ground ivy.
Aeration: We offer spring and fall core aeration to give essential resources better access to your turf's roots.
Overseeding: We offer our overseeding service with aeration, and we'll use turf-type tall fescue seeds to fill in bare and patchy areas on your lawn.
Lawn Disease Control: Our preventative lawn disease control treatments will prevent fungal diseases from establishing on your turf, including red thread, dollar spot, and brown patch. However, we also offer curative lawn disease control treatments to eliminate existing diseases.
Lawn Insect Control: We offer curative lawn insect control treatments to eliminate grubs, chinch bugs, cutworms, sod webworms, and armyworms.
New Lawn Seeding: We can establish your lawn from the ground up with our new lawn seeding service, where we'll thoroughly prepare the soil before planting our premium seed blend.
Slit Seeding: Our slit seeding service will help your struggling lawn grow healthy, green grass again. To do this, we'll plant seeds in the slits we create in the soil, encouraging direct seed-to-soil contact and improving their ability to germinate and establish.
---
Our pest control services will keep fleas, ticks, mosquitoes, and other pests off your property.
Don't let pests overrun your property - we'll keep fleas, ticks, mosquitoes, and other pests off with the following pest control services:
Flea & Tick Control: We'll apply our flea and tick control treatments from April until September, with four-week intervals between each, to provide consistent coverage against these biting pests.
Mosquito Control: Mosquitoes won't stand a chance against our mosquito control treatments, which we'll apply eight times throughout the year, with three-week intervals between each.
Chigger Control: We'll administer our chigger control treatments several times throughout active chigger season to keep these pesky insects off your property.
Perimeter Pest Control: We'll spray our perimeter pest control treatments 3 feet up the exterior wall of your home or business and 3 feet out onto the lawn to keep pests outside where they belong.
---
Call to Schedule Our Lawn Care & Pest Control Services Today
Here at Delaware Valley Turf, we specialize in creating healthy, beautiful lawns and showing pests that they're no match for us. We offer our lawn care and pest control services to property owners in Doylestown, PA. Call (610) 328-4170 to schedule today!